clouds nest like cysts on the soft tissues of their hosting milieu
2022
multimedia-installation with videos (7', 3.5', 3.5'), sculptures in silicone, fabric and plexiglas, performance and sound.
Your mine-eyes mirror a milieu: a dark site on remote control. A blob of ether, a cloud of confusion, yellow dust sets onto a murky swamp. The granular, hissing, forms a riverbed to flush out data mines' pixel. Hot spots in a cool place: the datasphere is alive with corporate chunks of imperial extraction. "Dig that bit there, coin!" And in that necrotic foggy zero-energy state, you and I have never been so close.
When to toss the (dry) dust, that once was your thoughts, that turns to swamp that turns to gas? This work is conceptualized as a milieu that hosts human as well as non-human actors, and lands in three main sites: a wormhole-like bunker system, an mining site and a datacenter. The project questions the metaphor of the cloud as a metaphor for the (seemingly) immateriality of the digital, with working through the infrastructures – where the cloud actually touches the ground (as datacenter, render hall, etc.). It dwells around the mystification of notions like the (remote) dark site, the Réduit of Switzerland as a vast bunker-storage space and engages with a datacenter's geopolitical circumstances that are fueled by thermoculutres and wealth-distribution-inequalities. The performances deal with the relationship we have towards our devices around notions of zero-energy-state, smooth-brain-state and intimacy. In this work I propose to think through the metaphor of the cloud 2.0 as an entangled, yet gaseous being that could unbind thinking from its sharp mind/black-white/computational thought, shifting towards a more entangled, complex thought-world making.
Presented at Centrale Fies, Dro (IT), as part of "tutt(le) rotte - all (the) ways: unfixed"
AEROPONIC ACTS
, Dutch Art Institute, July 2022.
With the participation of Alexandra Martens Serrano, Emmeli Person, Izaro Ieregi, Maud Gyssels and Mirjam Steffen. Sound: Maud Gyssels.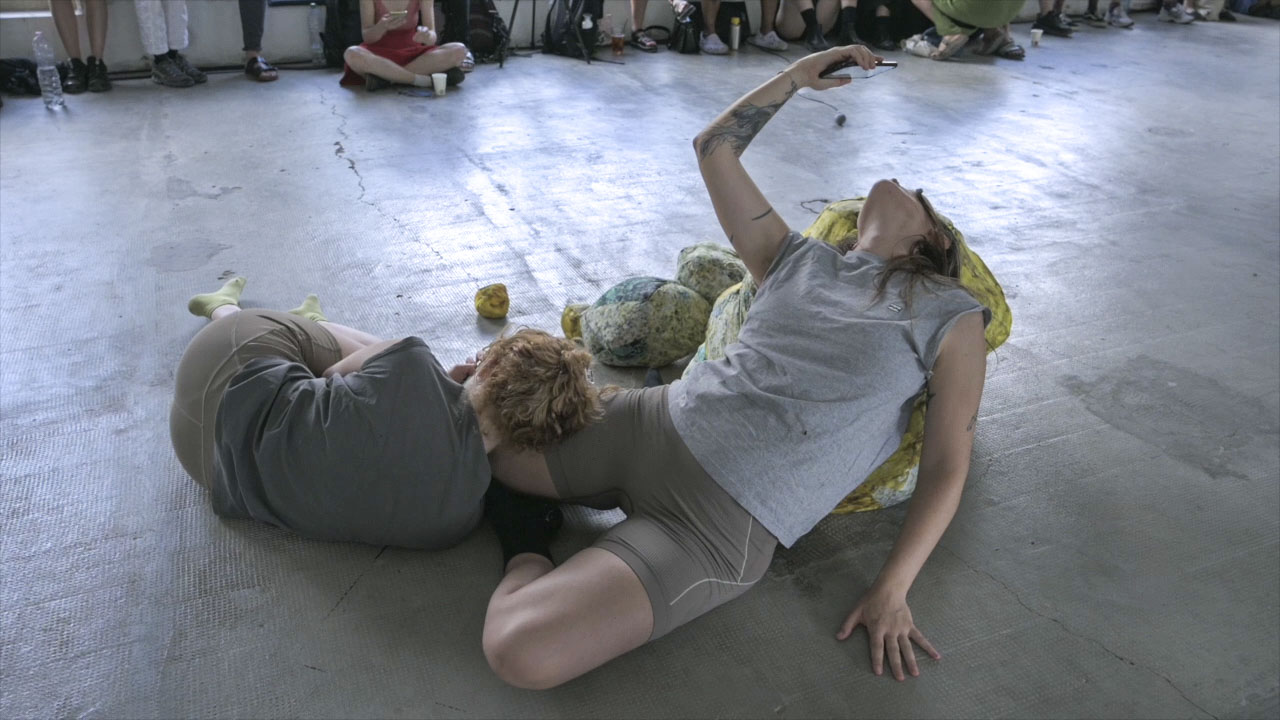 Performance documentation: © Baha Görkem Yalım
bergamot leather scent
2022

text performance

The work starts with leather chaps that I've found in a vintage store in Brussels. They evoked memories of my grandfather, a blacksmith, and imaginative memories of my grandmother, which I've never met, but from whom I've inherited my red hair. The text takes this memory as a starting point to think about the lap as a highly connotated and gendered body part, other cavities, such as the Swiss Réduit and talks about hiding, bunkering as Swiss traits.

Performed at Performing Arts Forum, St. Erme, FR, with Dutch Art Institute.


tears to your ears (you do not have)
2022
5-Channel videoinstallation with smartphones (each around 2'), beeswax finger.
A text in five chapters shown on five smartphones that are held by beeswax fingers. The text speaks of the intimacy between device and user, the materiality of the digital and the network, that is, with its zoomed-in, up-close videos, a glitchy pixel performance.
Exhibited in
Displays of Affection
with Eisenbricht, attheoff.space Zürich, in April 2022.
Photos: © Louisa Clever
How close can I come before your skin starts burning?
2021
Video (13') with sound and performance (17').
"How close can I come before your skin starts burning?" takes a found, porous object as a starting point for a poetic-materialistic examination of a disrupted environment. Seemingly solid objects burst at the slightest touch in their porousness into the smallest pieces, constantly changing their state of aggregation, always transforming. In this dystopian environment, the narrative approaches in a desiring and intimate way various remaining, long-lasting materials and the lyrical "I" begins to think about the materiality of the digital and the relationship and intimacy between device and user. How to grasp something that can only be touched on the surface? How close can I come before your skin starts burning?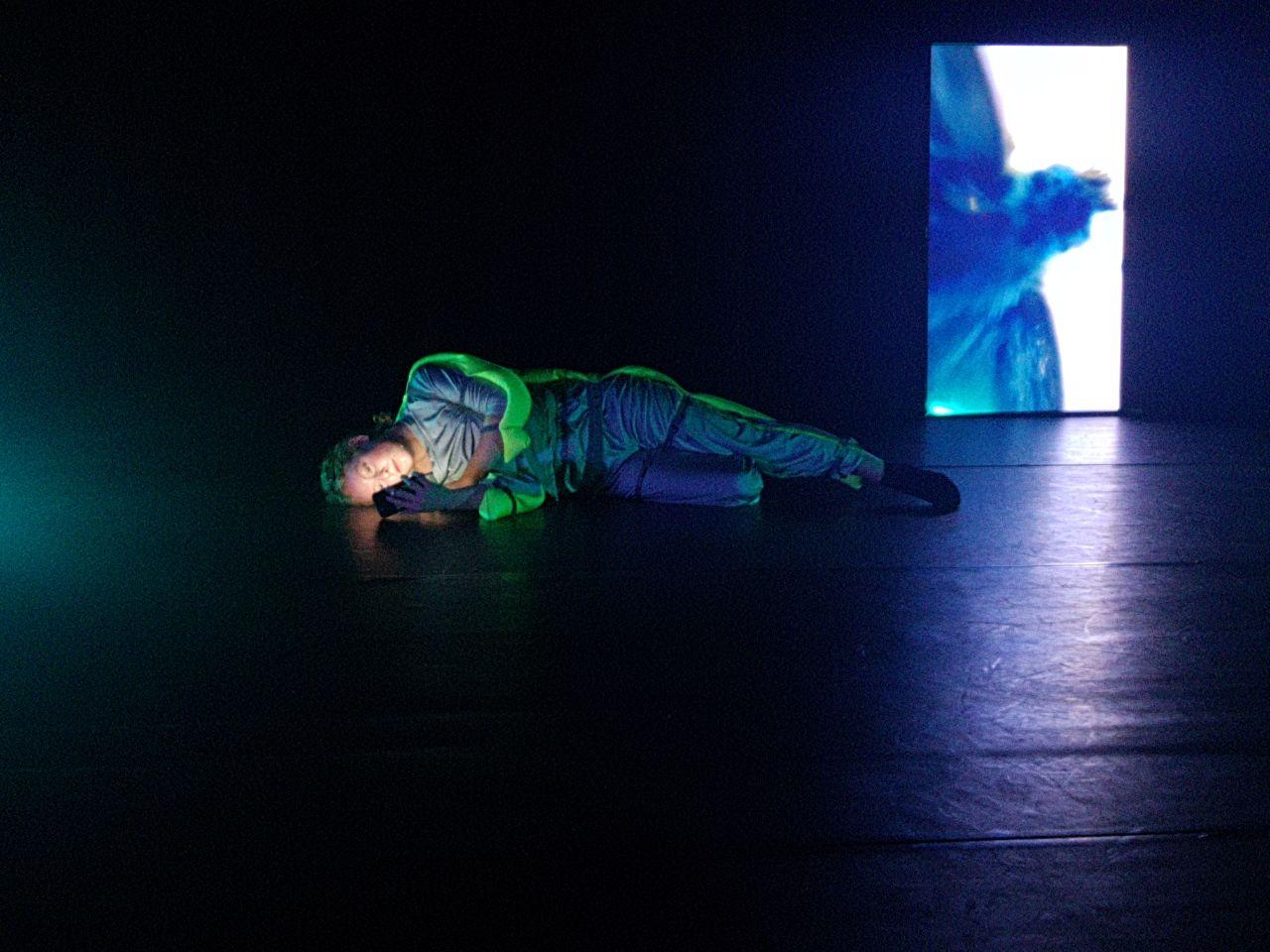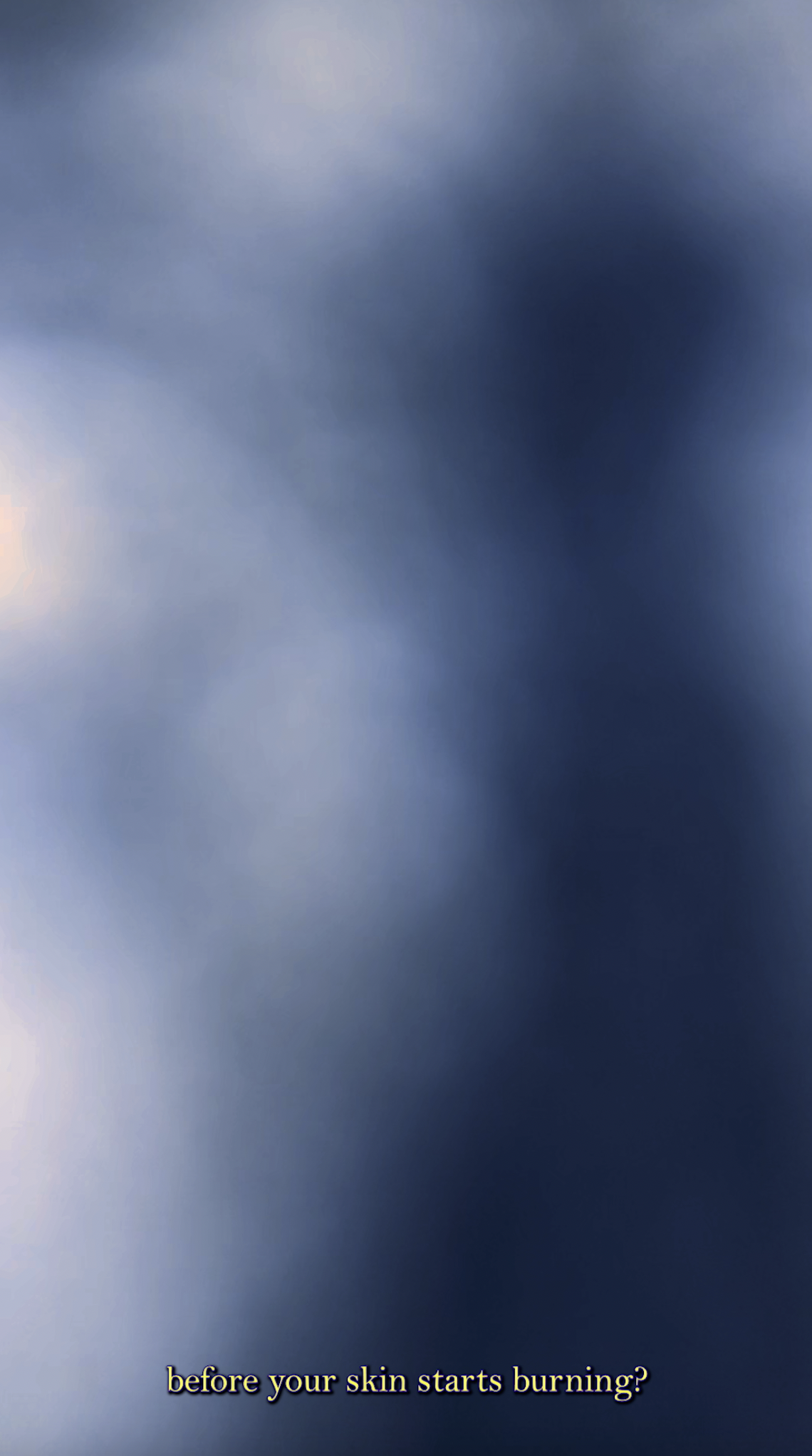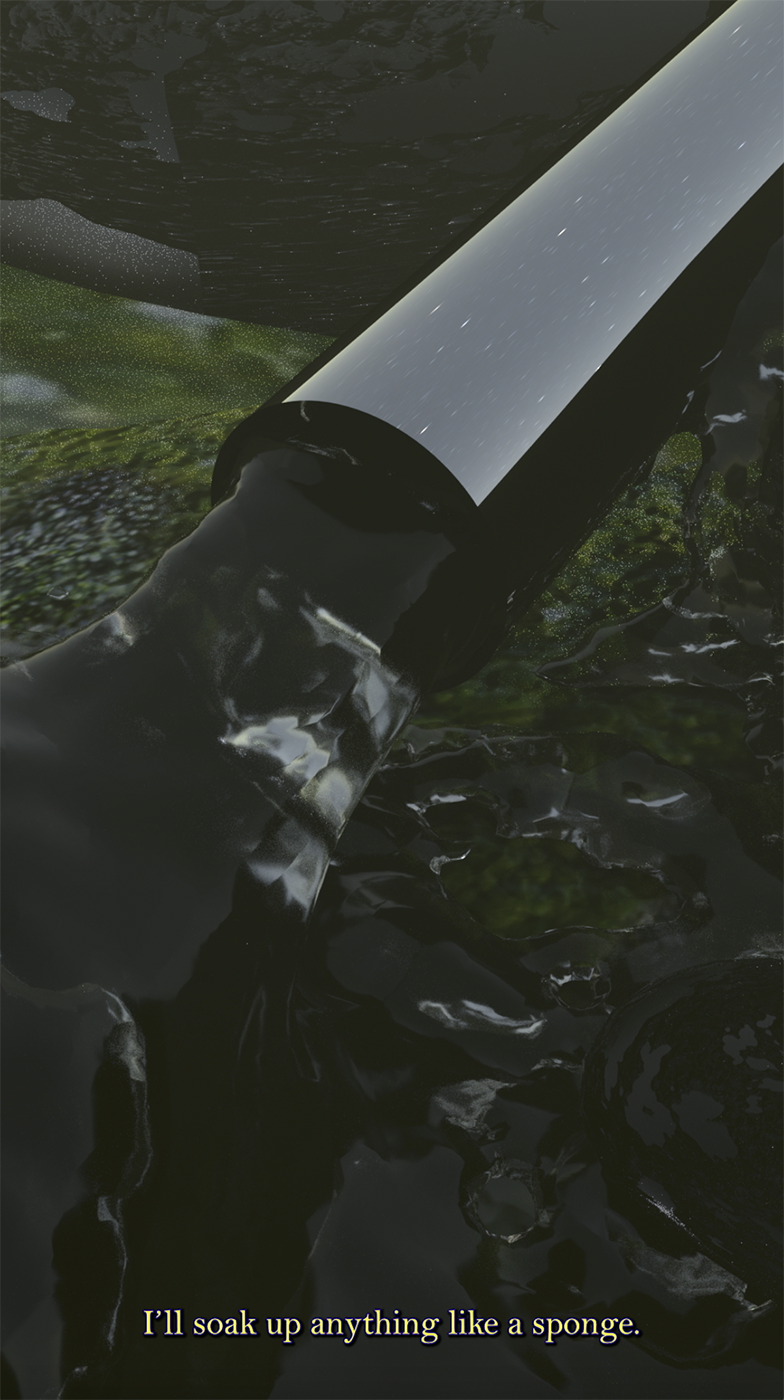 Ocean Currents

2020
three channel video installation (15') with sound, digital print on textile and online video
The work takes the ocean as an example to think about changing ecologies, more-than-human coexistence, and past and future modes of aging. It follows three different protagonists: an exhausted, bleached out coral, some singing sirens and an oyster. The latter awakens tired and disordered from dislocation in her new environment. In her half-awake state, she narrates about altering ecologies and her destiny as a fertile and never-tiring birthing machine, that will – in the end – be eaten alive.
Music: Luana Strauss, Christopher Matlik
Installation view at
Dienstraum Kunstmuseum Olten
, January 11th–March 2021. During the exhibition, a
video
was accessible for the comuting public.